Chinese manufacturing firms turn to digital techs to keep supply chains intact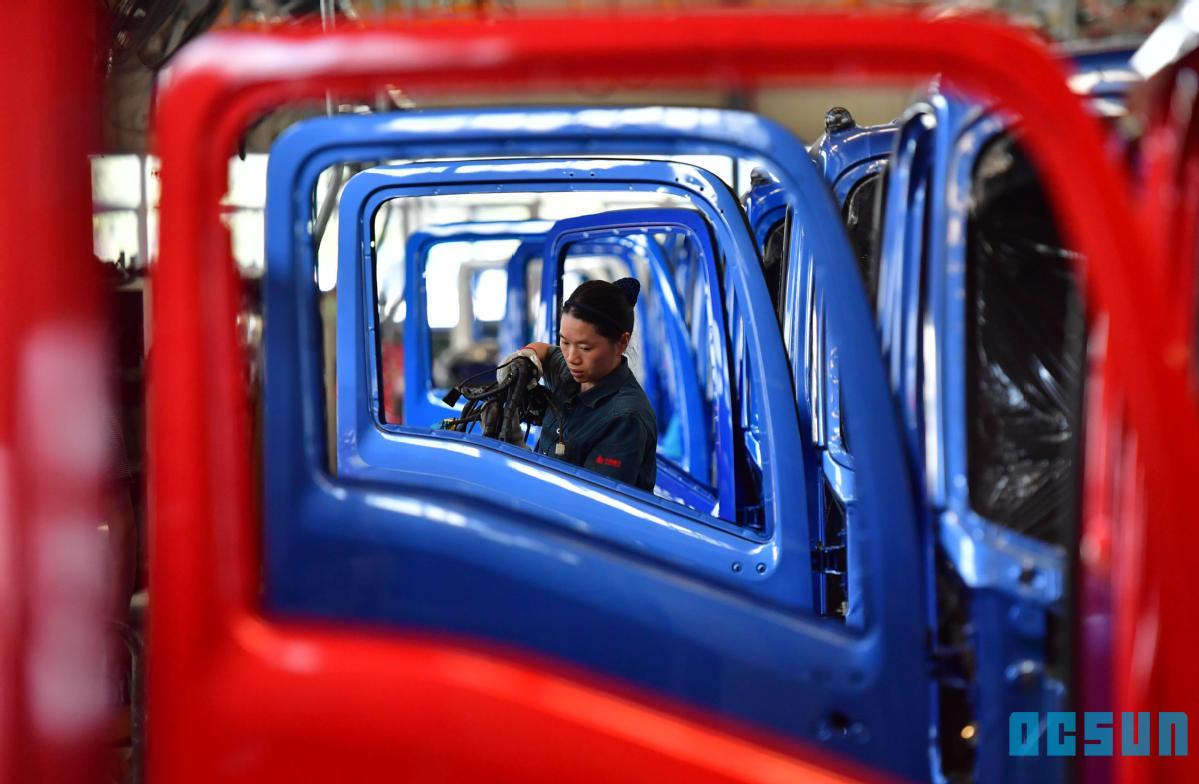 An employee works on a production line of Sinotruk Fujian Haixi Truck Co in Zhangzhou, Fujian province, on July 7. [Photo/China News Service]
BEIJING -- China's manufacturing sector is accelerating its recovery as firms resort to digital technologies to secure supply chains and lower production costs.
In June, China's purchasing managers' index (PMI) ticked up from 50.6 in May to 50.9.
But many Chinese manufacturers still face difficulties overcoming supply chain disruptions caused by the COVID-19 pandemic, for instance, higher production costs.
Against such a backdrop, digital transformation is becoming a favored solution for manufacturing firms to generate fresh momentum for their recovery.
REVAMPING SUPPLY CHAIN
While most manufacturing firms are stalled by the COVID-19 epidemic, there is one company that has bucked the broader downward trend.
From January to May, LCFC (Hefei) Electronics Technology Co Ltd, the largest personal computer (PC) manufacturing base of Chinese tech giant Lenovo, saw its PC shipments climb 32 percent year on year in the first five months.
With over 30 global manufacturing bases and more than 2,000 core suppliers, Lenovo sees its business resilience lying in a stable and efficient supply chain.
According to Guan Wei, Lenovo senior vice president and head of the firm's global supply chain, the company has invested over $100 million into the digital transformation of the supply chain over the past three years.
Workers can now access the real-time status of orders and production lines of other factories as well as the manufacturing situations of suppliers on the intelligent supply chain platform system, in order to coordinate production and supply.
Noting that there are many small and medium-sized enterprises (SMEs) making basic parts surrounding every Lenovo base, the company has offered to build an information-based system for its smaller partners to include them in the digital ecosphere.
"In short, it is not only us that must go digital, but also our suppliers," said Bai Peng, CEO of LCFC.
Putting large enterprises in the lead to drive the growth of SMEs not only conforms to the law of the market, but also enables the industrial system to be healthier, Guan said.
LOWERING PRODUCTION COSTS
China's top economic planner earlier released a plan prompting platform enterprises to offer SMEs cloud technologies as part of efforts to lower the costs for SMEs and spur their vitality.
Following the plan, internet platforms and leading enterprises have opened their computing power and digital resources to smaller companies to help them emerge from the crisis.
For instance, the State Grid Zhejiang Electric Power Co Ltd has recently installed an energy management system across 2,000 firms in Hangzhou to monitor their energy consumption and provide efficiency data to lower their electricity costs.
JD Digits, the digital technology arm of Chinese tech giant JD.com, has also pitched in to help brick-and-mortar enterprises reduce transaction costs with its self-developed blockchain-based service platform.
Digital technologies will push forward the precise allocation of information, technology and production capacity to a great extent, said Liu Duo, head of the China Academy of Information and Communications Technology.
"They are a 'sharp tool' to achieve the integrated development of large-, medium- and small-sized enterprises," Liu added.
--China Daily